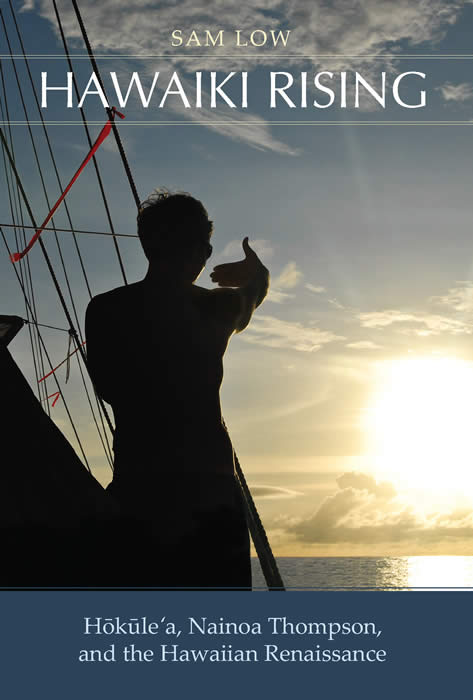 Hawaiki Rising
The true story of Hokule'a, her crew and the Hawaiian Renaissance.
A book by Sam Low released in May of this year.
Growing up in Hawaii, a world of two competing cultures - ancient and modern - a young man finds his way by voyaging in the paths of his ancestors.
*********
The stars circled Earth before there were eyes to see them. When the planet cooled, human beings followed them across unblemished desert, tundra and ocean. As the walls of Troy were falling to the Greeks, Polynesian explorers sailed star paths across the world's greatest ocean to settle one third of Earths' surface. They voyaged aboard powerful double canoes, some more than a hundred feet long, against prevailing winds and currents. And they did this when Greek mariners still hugged the coast of an inland sea and Europe was populated by Stone Age farmers. Yet by the turn of the twentieth century, this story had been lost and Polynesians had become a destitute minority in their own land. Ask mainland people today about this ancient sea people and you will be told of Kon Tiki, a false tale of raft-bourn drifters at the mercy of wind and wave.
Yet the ancient story lived among Hawaiian families who guarded their ancestral lore – the language, hula, curing practices and the traditional rituals. It was the gospel of their culture and it did not die, it went underground, a guttering flame waiting to be reborn. Then, in 1973, three men – a scientist, an artist and a famous waterman – joined to recreate a Hawaiian voyaging canoe, Hokule'a, and sail her on the epic voyages celebrated in oli and mele – poetry and chant.
Hawaiki Rising tells this story in the words of the men and women who voyaged aboard Hokule'a. They speak of growing up at a time when their Hawaiian culture was in danger of extinction and their future in their own land was uncertain. We join Ben Finney, Tommy Holmes and Herb Kane as their vision of a sleek voyaging canoe takes shape in a Honolulu shipyard. We meet Nainoa Thompson, a young man of twenty-two when Hokule'a is launched. We follow him, as he looks skyward with eyes unfettered by preconceptions to see ancient and holistic patterns ignored by Western astronomers and navigators. With Mau Piailug, a traditional navigator from the tiny Micronesian island of Satawal, we embark on a voyage from Hawaii to Tahiti and learn how he finds his way by subtle signs in nature. We experience the heartbreaking loss of Eddie Aikau – Hawaii's most famous waterman – when Hokule'a capsized after an ill-conceived voyage in 1978. And we are present as new leaders vow to continue voyaging to both honor Eddie' life and to seek a renewal of their traditional values. Overcoming fear by trusting in the vision of islands rising from the sea, Nainoa and his crew make a 2400 mile ocean voyage from Hawaii to Tahiti – the first Hawaiians to navigate the Pacific without charts or instruments in a thousand years.
The book's title - Hawaiki Rising – contains the kaona; the hidden meaning that animates this story. It refers to the mythic Hawaiian homeland; to an ancient image of newly discovered islands rising from the sea; to the story of the demi-god Maui who fished up land with his magic hook; and to the resurgent pride of all Hawaiians as their dream of seeing Tahitian mountains rise above the horizon is finally realized.
When Hokule'a crewmember Sam Ka'ai carved the ki'i – the sculpted figure - that adorns the canoe's stern, a dream came to him of a blind man reaching to the heavens. "This is an effigy of how we are after so many years of oppression," Sam tells us. "Blind to our past, we reach up to grasp heaven one more time. The same stars are rising as they did for our fathers for many, many generations. So if you lose your way - remember that you once sailed on your mother's lap and you were never lost. The stars turned minute-by-minute, hour-by-hour, dawn and dusk and you always came home or your kind wouldn't be here. This is an effigy of the Hokule'a experience – the ohana wa'a, the family of the canoe. He is reaching above himself, beyond himself, to the story that has not changed, the forever and ever story. He is showing that we are taking hold of the old story once again."
contact – Sam Low – samfilm2@gmail.com, 508 693 - 0509
"…anyone who wants to be moved, inspired and kept on the edge of their seat living a great adventure - this is the book. With grace and skill, one of the truly great human adventures has been preserved forever." Mindi Reed
"The pacing is great. A good read. Fast, interesting... I adore the portraits of the various players, including minor ones." Author Christina Thompson.
"…written in such descriptive terms that I felt as though I was on the canoe. I could not put the book down." Richard Hardy, Honolulu
"As a journalist, it is always a pleasure for me to read fine writing that is rooted in painstaking interviewing." Author Sally-Jo Keala-O-Anuenue Bowman
"...inspires us to hope for intelligent and peaceful resolutions to challenges that face each of us individually and all of us collectively. It's a book that resonates far beyond Hawaii and the Pacific." Lorna Strand, Aiea, Hawaii
"…a superb book by a superb writer …THE best book on voyaging that has ever been done, and likely ever will be done." Author MacKinnon Simpson
"It was the most moving book I have read. When it ended I wept. Bless you for writing it with such understanding and bless those who continue to voyage."
Dixie Brown
"…a story of finding one's self, one's conviction, one's cultural destiny." Mike and Diana M. Shaw
"I read Kon Tiki in high school and KNEW it was not the real path of Polynesians."
Sandy Ednie
Available now at most good book stores in Hawaii
on Martha's Vineyard,
at the Mystic Seaport Museum Bookstore (http://www.mysticseaport.org/locations/bookstore/)
and on Amazon.com
The book was first released at the Hawaii Book and Music Festival in Honolulu.
"Sam Low's presentation of his book, Hawaiki Rising, was the outstanding author event of this year's Hawaii Book & Music Festival. Sam's photographic images amplified a dramatic performance. It was an event attendees are still talking about."
Roger Jellinek
Executive Director
Hawaii Book and Music Festival
Interview with author Sam Low about Hawaiki Rising
View From Here blog
By Kim Steutermann Rogers
Nov 22, 2013
Earlier this summer, I picked up a newly-published book and couldn't finish it. Not because it wasn't a good story but precisely because it was a good story--and I kept giving away my copy. After purchasing three copies, I finally managed to keep one long enough to finish reading the entire book.
That book was Hawaiki Rising by Sam Low, and as I do with most Hawaii authors whose books I read—and like—I reached to Sam to talk about his book and, hopefully, learn a few trade secrets in the process.
In 1976, a group of sailors boarded a double-hulled voyaging canoe with the intent of sailing from Hawaii to Tahiti. They provisioned themselves with food and drink but did not pack modern navigation devices of any kind. No GPS. No compass. Not even a sextant. Instead they would use stars, sun, waves and wind as their road map.
Hawaiki Rising is the story of the early years of the Hokulea, a double-hulled voyaging canoe built in the manner of the ancient Polynesia canoes that once traveled the big Pacific Ocean in search of land. In sailing to Tahiti in 1976, Hokulea not only pulled some islands out of the sea and proved the original discovery of these Hawaiian Islands was no accident but pure scientific discovery. In the process, Hokulea restored a culture from near extinction.
"There is also a deep universal philosophy of life here, I think," Sam Low told me. "It is a story behind the story of adventure and culture—it is universal. I hope."
Sam Low and I traded a series of emails over a couple weeks. Here's how our conversation went:

I can see that writing Hawaiki Rising was no small endeavor. I mean, the research alone must have taken years. Do you have any idea how many hours you spent researching—interviewing, reviewing logs, diaries, historical record and such?
I spent so much time researching and writing the book it is hard to calculate. I made three voyages on the canoe and one on an escort boat, taking notes and photographs all the time. I wrote more than a dozen articles for national magazines which was part of the preparation for writing the book. I would say that I must have spent at least three years, full time, over ten years writing Hawaiki. That would be about 6,240 hours just on the book—at least. And don't forget that I spent two years before that making my movie--The Navigators--which contributed to my knowledge of the subject. It was a labor of love—or a kuleana, as we say in Hawaii—a privilege and a responsibility.
I know you grew up on the East Coast and now live on Martha's Vineyard. Will you share your story of connection with Hawaii?

My father was sent away [from Hawaii] to school in Connecticut when he was 17 years old. The story goes that his father went bankrupt at home and he had no money to pay for his son's return – so my father decided to make his way in New England. He grew up to become an artist, teacher and director of an art museum in New Britain, Connecticut, married a beautiful and talented New Englander, had me, and stayed on.
I knew that my father was different from other dads at an early age. For one thing, he did not work in an office, he went to his studio to paint, or to Loomis School to teach art, or to the New Britain Museum of American Art where he was the director. My mother was an artist, too, so I grew up in a very creative family. And my father was the only dad that I knew who played the guitar and sang songs in Hawaiian. The fact that I was part Hawaiian didn't really have much meaning for me, growing up in a very haole world in New England. What fascinated me most were stories my father told about HIS father – a famous cowboy from the Big Island known as "Rawhide Ben Low." How could I not be interested in a grandfather who was a cowboy? I loved dad's stories of Rawhide Ben growing up on the Parker Ranch, hunting wild cattle on the slopes of Mauna Kea, losing his arm in a roping accident, and founding Puuwaawaa Ranch. Still, I really did not know what "being Hawaiian" meant.

In 1964 I was commissioned as a Naval Officer and ordered to a ship in Pearl Harbor – which was my choice – I wanted to see Hawaii.

My plan was to drive a battered Volkswagen across country to San Francisco, ship the car to Hawaii and fly to join my ship. On the day that I left home, my father took me aside.

"I will see you in Hawaii," he told me. "I have not returned but now is the time. You will be there and I want to see my family."

He died in his sleep that night of a massive heart attack.

Later, in Hawaii, an elderly cousin took me aside. "When your father never came back, some of us in the family were angry with him. We felt that we were not good enough for him. But there is another reason. When he left the islands, he went to a kahuna for a blessing. The kahuna told him that he would die young and that he would never come home. I think he did not come back because he was afraid to. And now the kahuna's story has come true. But I am glad that you are here. In you, he has come home."
It was not until I arrived in Hawaii for the first time in the fall of 1964, as a young naval officer stationed on a ship home ported in Pearl Harbor that I began to get an inkling of my Hawaiian identity.

I lived on Sunset Beach for about six months in a house I rented from Fred Van Dyke. During that time, I got to know my aunt, Clorinda Lucas – and I was introduced to an old-time, authentic Hawaiian life style by staying with her in Niu Valley. Clorinda was a well-known social worker who dedicated her life to helping Hawaiians. Almost every day, Hawaiian families would visit her home in Niu and be welcomed to discuss their lives, their joys and sorrows, with Clorinda. And, when needed, Clorinda would find a way to help them. It was this "helping" ethic that I found most fascinating and that introduced me to, if you will, the "aloha spirit."

At that time, I did not really see much left of an authentic Hawaiian culture. None of my family spoke Hawaiian – with the exception of Clorinda who knew a few sentences and phrases. All of them, like so many Hawaiians, had been raised to deal with a haole world. I did not see any classic hula. The culture seemed to be dying.

In 1976, I read about H?k?le'a and her successful voyage from Hawai'i to Tahiti – carrying her crew 2400 miles in thirty-five days. Even more astonishing, she was navigated by Mau Piailug, a man from a tiny Micronesian Island who found his way as his ancestors always had, without charts or instruments, relying instead on a world of natural signs. I determined to make a film about this story and to tell it from the perspective of the scientists who had discovered the truth about ancient Polynesian explorers and men like Mau Piailug who continued to sail in the old way.

I spent two years traveling the Pacific with experienced archaeologists as guides, retracing steps taken by early Polynesian mariners. I sailed with Mau Piailug from his home island of Satawal. He told me how he navigated by the stars and by signs in the wind and waves using secret knowledge handed down from father to son over thousands of years. I spent time in Hawai'i with Nainoa Thompson who combined Mau's teachings with his own discoveries to reveal how ancient Polynesians may have guided their canoes. I began to feel a stirring in my blood. I am one-quarter Hawaiian, and three-quarters haole—descended from a Hawaiian ali?i (a chief) and a New Englander who ventured to the islands in 1850 seeking wealth and bringing with him disease and an alien way of life. At first glance, this influx of outsiders seemed to have destroyed Hawaiian culture. But as I visited the islands more often, I discovered an astonishing revival of the Hawaiian language, poetry, dance and all the other arts of indigenous life. Hawaiian culture had not died. It had gone underground—waiting for a spark to ignite it. That spark was H?k?le'a.

What's also quite evident in the story is the access you had to the key players of Hokulea and the Polynesian Voyaging Society from the early days. How did that come about and what was that experience like? Were people forthcoming? Shy? Resistant?
Nainoa Thompson is my cousin, so when I visit Hawaii - usually every year - I stay with my family and Nainoa lives about 100 feet from my guest house residence. I was able to talk with him on hundreds of occasions. We developed a deep mutual trust and affection which allowed me to ask intimate questions and allowed him to respond.
In addition - voyaging aboard Hokule'a allowed me to connect to crewmembers on a deep level. Before writing the book I posted hundreds of stories on the web, wrote magazine articles and the like which developed trust that I would fairly represent everyone I spoke with. And - it is also an obligation on the part of crew to get their story out to the public and they recognized that was my task - to help them do that - as documenter.
Why did you decide to just write about the early years of Hokulea and the Polynesian Voyaging Society?
The early years were the most important and the most dramatic in my opinion. Hokule'a has had such a stunning history - 40 years since inception and 140,000 miles of voyaging - that I needed a shorter time span. There was too much to cover. The first years were the time during which the ethos of voyaging evolved, the universal view of the importance of the quest to find ourselves as human beings--not only as Hawaiians. That is the central story--what makes the quest so universal - and all that happened in the first seven years of Hokule'a's evolution and that of the Polynesian Voyaging Society.
The narrative reads like a nail-biter. There's tension and drama throughout--and I even knew the ending. Did you consciously think about this as you were writing and what inside writing techniques can you share that helped you achieve such an interesting read?
I am a student of a kind of writing style called literary non-fiction in which the author uses all the elements of fiction storytelling—character development, plot, setting, theme—to tell a non-fiction story. It was always my goal to write a "good read" while being accurate to the facts. I read and reread authors like Joseph Mitchell, John McPhee, Tracy Kidder to learn the style.
Was it difficult to find a publisher? What was that experience like?
It was not difficult to find a publisher. I was interviewed by five of them in Hawaii, including the University of Hawaii Press, and they all wanted to publish the book. But, in the end, I decided to publish it myself because I wanted to keep control of the book—to choose and design the cover, the text layout, and be in charge of every detail that went into the book. It was a sacred obligation to the Ohana Wa'a to do that, and I did not want anyone else having control over the process.
The response to the book from what I've seen is nothing but favorable. Overall, it's getting four stars on Amazon.com, and the first print run must have sold out quickly, because I had a hard time finding it in Hawaii. What kind of feedback are you hearing from people when you do readings and/or public events?
Actually, they are five star reviews - out of a possible five - and I have received 35 of them so far from readers. The book sold out in five months, 3,000 copies, and is now in its second printing.
The personal response has been very, very gratifying. I released the book at the Hawaii Book and Music Festival, and Nainoa and I signed over 100 books with people waiting in line for an hour.
I released the book in Hawaii first because it was important that Hawaiians approve of the book before I sold it on the mainland. The response was so enthusiastic that I believed that I had the approval of my crewmates and fellow Hawaiians, so I released it on the mainland a few months ago.
http://www.outrigger.com/explore/hawaiian-islands/view-from-here-blog/2013/Nov/talk-story-with-author-sam-low
NEWS FLASH - HAWAIKI RISING IS NOW IN ITS SECOND PRINTING - THE FIRST PRINTING HAVING SOLD OUT.
News Flash - Sam appreared at the Apprenticeshop in Rockland, Maine at 7 PM on Friday, November 8th, to show his film - The Navigators.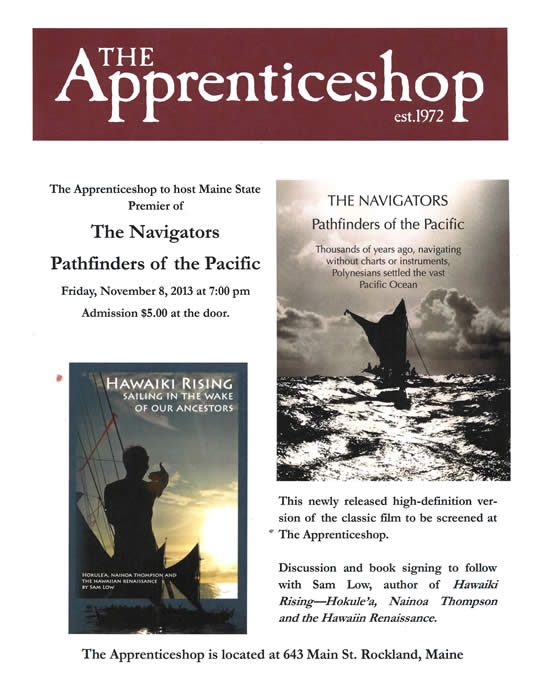 Please listen to Sam's converation about Hokule'a and the deep meaning of Polynesian voyaging with Lance Lee and Ben Fuller at ScholarShipwrights web site. Just go to... http://apprenticinglandandsea.com/

Sam appeared at Mystic Seaport to show his film - The Navigators - on Thursday, October 17th at 7 PM and signed copies of Hawaiki Rising. He was also at the Mystic Seaport Book Store on Friday to sign books. Aloha.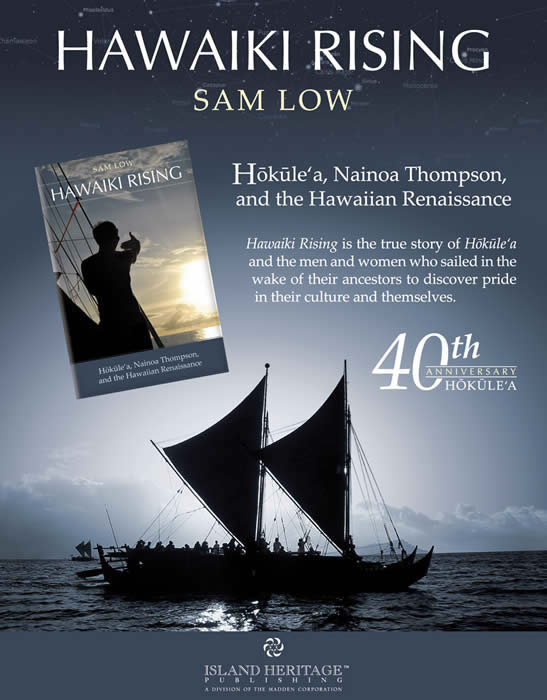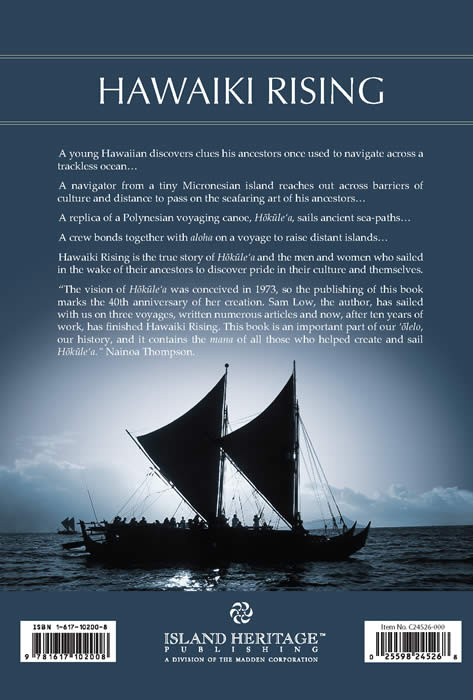 Book Reviews
Michael J. Ambrosino, creator and executive producer of the PBS series - Nova, Odyssey and The Ring of Truth
It is a wonderful book: graceful, exciting, informative, well paced with lively action. You succeeded in the most difficult task. You put me right on the canoe.
The education of Nainoa, with all its complications was a delight. I am with him in his doubts and worries and follow him in joy as he learns to trust himself. Mau comes across as a fully developed character and the difference and similarities with Nainoa made for an interesting story.
You have accomplished a rare thing: an informative, detailed story, told with honor, conviction, humanity and grace.
This book is a gift to all Hawaiians and to all haole as well. Any gift to humanity is a gift to all.
Christina Thompson - author of the book "Come On shore and We Will Kill and Eat You All" - published by Bloomsbury (and now working on a major book for Harper Collins on Polynesia) has this to say:
The pacing is great. A good read. Fast, interesting... I adore the portraits of the various players, including minor ones – this is a huge strength of the book: your intimate knowledge of the people, the details of their own personal histories, how they came together to make this happen, what it meant to each of them. I think that is FANTASTIC and I haven't seen it anywhere else....
I have got to tell you that I think this book is a classic. Really. There are a handful of books on this subject and every one of them is important, We the Navigators, East is a Big Bird, An Ocean in Mind etc., but your book is absolutely one of this group of four or five. It's amazing.
Linda Collison - author of many books, including "Surgeon's Mate" and "Barbados Bound" in the Patricia MacPherson Nautical Adventure Series
As the night wore on, the swells built to twenty feet and began to break. "Two big ones rocked the whole canoe," Chad recalls. "They went over us and I heard Gordon yelling "Is everybody okay?" Then another wave hit us and I remember one guy grabbed me by the shoulders and looked at me with big eyes and a pale face -- 'This is it,' he yells. 'This is it." -- page 233 Hawaiki Rising.
Sam Low's "Hawaiki Rising" is an important addition to the growing collection of books about the renaissance of tradition wayfinding on the Hokule'a, and the resurgance of Polynesian voyaging and the science and art behind it. This book differs from previous classics ("Voyage of Rediscovery" by Ben Finney, "We, the Navigators" by David Lewis, "An Ocean in Mind" by Will Kyselka, "Voyagers" by Herb Kawainui Kane) in that it's more of a narrative of the human dynamics of the early voyages. The author provides enough science and nautical information for understanding, but his real contribution is the candid revealing of the human drama that was at the core of these exciting voyages. He uses quotes from other crewmembers to recreate the experiences and lend validity to his account. His account of the loss of Eddie Aikau was absolutely riveting and reverent; he brings out the psychological effect it had on the entire crew and the future of Hokule'a. Sam Low concentrates more on the people, the voyagers themselves, and after reading it I feel like I know them a little better and have an inkling of what they went through.
My husband and I had the pleasure of hearing Sam Low and Nainoa Thomson introduce the new book at Imiloa in Hilo (June, 2013) as the Hokule'a is beginning another voyage. This book offers yet another perspective of the now legendary experiment and cultural revival of traditional Pacific voyaging.
Immensely readable and highly recommended. If you aren't familiar with the story of Hokule'a and the Polynesian Voyaging Society, this book is an excellent one to read first.
MacKinnon Simpson - an award-winning Hawaii historian and author. By last count, he has published 19 books, among them: "Hawaii Homefront," "Whalesong," "Next Stop Honolulu."
No one but Sam Low could have told this story.

Hawai`iki Rising is a superb book by a superb writer. Sam Low had unprecedented access to Hokule`a navigator Nainoa Thompson and has created THE best book on voyaging that has ever been done, and likely ever will be done. Sam has carefully documented the conversion of Hokule`a from a 1976 science experiment to a cultural and educational icon of Polynesia. The canoe has changed Hawai`i and those who have sailed upon her, and inspired similar vessels throughout the South Pacific. For anyone interested in the soul of these islands, Hawai`iki Rising is a must-read.

From a Reader
I just finished Hawaiki Rising. Your book is so beautiful and powerfully moving. I am basking in the feelings of deep reverence and inspiration that fill me upon finishing it. I wanted to write you while these feelings are still so strong. Thank you for the honest insights into all of Hokule'a's story. I have a much deeper understanding of this place and the deep feelings of the people, the Hawaiian people, here today. I have "felt" some of these things but your book has helped me have a better understanding. I savored this book and purposely put it down so it would not end too soon.
I will be thinking of Hokule'a and her crew as they sail on their mission and hope they will find their way to some of the islands that I was fortunate to visit on my short few months of sailing in the South Pacific. My heart is always going back to the sea remembering the feelings of sailing and seeing islands rise up out of the ocean.
Thank you for your beautiful story telling.
Patti - Amazon.com
From United States Congresswoman Colleen Hanabusa
September 30, 2013
Dear Sam,
You don't know me but when Nainoa Thompson visited me in Washington, D.C., he gave me a copy of your book, Hawaiki Rising, it had a note that you would love comments. I am writing to you because I want you to know what your book means to me.
I began reading your book as a story about Hokule`a's history. I ended your book knowing that you had captured a more important story, that of the Native Hawaiians.
Hawaiki Rising, if I may be so bold, is:

A story about Hokule`a.
A story about the lives Hokule`a touched and shaped.
A story about the travesty and injustice Native Hawaiians experienced.
A story about the lust for identity and the craving for self.
A story about the importance of pride and hope in all of us.
It is, however, foremost a story that should and must define what Hawai`i is.
I am a yonsei, fourth generation Japanese American. I grew up in Wai`anae. This is the home of my family, on both sides, for four generations. I would like to think that I have earned the trust of some of the native Hawaiians in my area. I would also like to think that some may say that I understand their situation as much as a non Hawaiian might be able to. That is why I was so moved by Hawaiki Rising.
Your book captures for me what happens when a people is stripped of language, identity and culture; and when they are made to feel like they are less than welcome in their own lands. The thirst for what is lost cannot be quenched because you don't know what was lost.
Hokule`a's story was really about a renaissance of a people. I remember listening for reports and how important it was for the trips to be a success.
Thank you for the insights; especially the role of Mau and the birth of Nainoa Thompson. Leaders, who others recognize that quality in them before they do in themselves, make the most effective leaders. This is Nainoa's story.
Hawaiki Rising is the hope and pride of its people.
It should be a mandatory read in all Hawaiian Studies classes, especially on the high school level.
Congresswoman Colleen Hanabusa
238 Cannon HOB
Washington, DC 20515
--------------------------------------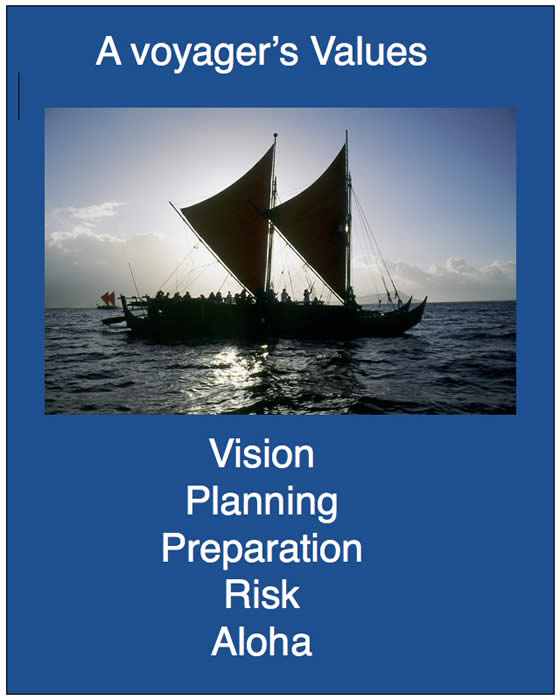 A voyage is much more than finding a destination – it is discovering deep personal values that helped Nainoa Thompson and his crew navigate not just across oceans but to a deeper understanding of themselves. "On all of our voyages, we have been guided by the wisdom of our elders, our kupuna," as Nainoa tells us. "Among them is my father, Myron "Pinky" Thompson, who understood that voyaging is a process in which we are guided by values that are universal. 'Before our ancestors set out to find a new island,' my father told me, 'they had to have a vision of that island over the horizon. They made a plan for achieving that vision. They prepared themselves physically and mentally and were willing to experiment, to try new things. They took risks. And on the voyage they bound each other with aloha so they could together overcome those risks and achieve their vision. You find these same values throughout the world,' he said, 'seeking, planning, experimenting, taking risks and caring for each other. The same principles that we used in the past, are the ones that we use today and that we will use into the future. No matter what race we are or what culture we carry, these are values that work for us all.'"
----------------------------------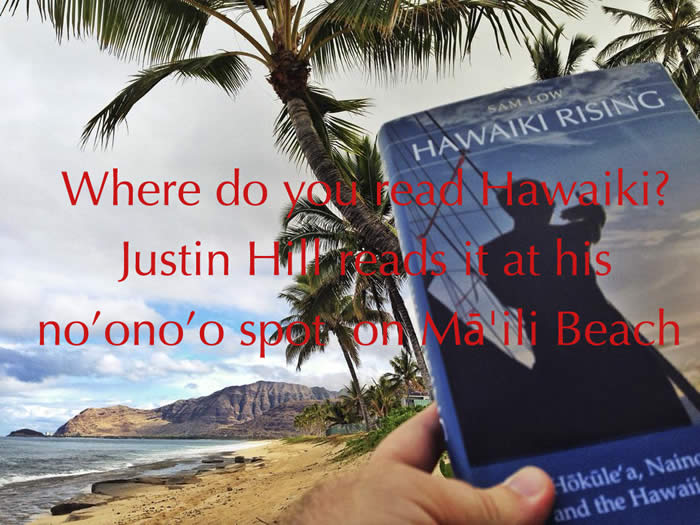 From a UH HILO professor and conservation expert
I'm just back with family from a vacation in Colorado, during which I finished Hawaiki Rising. It is a fantastic read, and inspiring in a way that was profound and uplifting. Surprisingly not because I'm an ocean person, and an avid long-distance paddler. But because of what your book means for the conservationist in Hawaii. I recently received a service award from KUPU, the non-profit that manages Hawaii's Youth Conservation Corp, on behalf of my organization. I was asked to say something inspirational to the 200 some YCC kids getting ready for a summer of restoring Hawaii's degraded forests and coastlines. I said a few words, then read the forward to Hawaiki Rising. The passages hit the mark. My message was that we in conservation need to explore the strong nautical / voyaging theme of your book, and then we need to embrace the Hawaiki Rising metaphor - to have in our minds a vision for Hawaii that will anchor us, keep us on the path, keep us from getting lost. And to have faith that one day that vision will emerge as reality, all the while we have grown as a conservation/restoration ohana. Anyway, thank you for sharing such a powerful story - and helping me and others more effectively do our work.
Dr. Christian Giardina
Research Ecologist, USDA Forest Service
Restoration ecology, Forest responses to global change, Forest ecology and management, Forest ecophysiology, and Tree-soil interactions.
From a reader
"This book will become a cornerstone in future libraries that hold the story of Hawaii's people and their accomplishments. The mastery of the story telling is equaled by the amazing spirit of the people of the canoe. Nainoa runs so deep in his own soul and takes us all with him on both his personal and greater story of discovery. The teachings are many and the layers of revealed understanding are a glimpse into this spirit that masterfully guides us and makes this whole experience personal and global, cosmic and real. Gratitude to all. Once you put this book down, it continues to vibrate in your being for many months to come."
Sharon Hayden
Niulii, Hawaii
Hawaiki Rising
Hokule'a, Nainoa Thompson, and the Hawaiian Renaissance
by Sam Low
343 pages. Island Heritage Publishing/Madden Corporation. $24.95
Reviewed by Matthew Gurewitsch
July 10, 2013

Myths morph in translation. Of Maui, the Polynesian sun god or demigod, many tales are told, but where are the true ones? Some say he set out one day with his canoe and his fishhook to pull the links of the Hawaiian island chain together so that his people might travel back and forth, but then a human chieftain broke the spell and spoiled everything. Some say it was Maui who pulled the islands of Hawaii from the depths of the Pacific in the first place, then cast his fishhook into the sky, where it blazes as the constellation Western astronomers know as Scorpio. To those who can decode them, here are clues to the unwritten epic of the discovery and settlement of Polynesia, beginning around 800 BCE, around the time of the rise of the Greek city states.
Hawaiki Rising, a new book by the writer, sailor, prize-winning documentary filmmaker, and Harvard-trained anthropologist Sam Low, weaves from many strands a chronicle of the recovery of the Polynesians' ancient science—or rather their art?—of navigation, practiced without charts or instruments, yet powerful enough to have guided what modern descendants have called the spaceships of the ancestors safely back and forth across the vast face of the Pacific. Glimpse here, if you will, transposed in time and tongue though not in space, the true-life myth of a latter-day Maui.
Bounded by New Zealand in the southwest, Rapa Nui (Easter Island) in the southeast, and Hawaii in the north, the Polynesian triangle is dotted with atolls and volcanic peaks, some 1,000 islands in all, cast like specks across 70 million square miles of Pacific ocean, an area more than four times the size of Asia. "Can you see the island?" a master navigator asked in November 1979, weeks before his disciple set sail from Hawaii in quest of Tahiti.

"I cannot see the island but I can see an image of the island in my mind," the disciple answered.
"A navigator knows where the land is inside of him," the master commented years later, "even when he can't see it."

What lay ahead, over three decades ago, was a 2,400-mile voyage through raging tempests, the dead calm of the Doldrums, capricious currents and countercurrents, seldom blessed with fair winds or following seas. For his compass, the fledgling pilot would gaze at the wheeling stars overhead, at the same time scanning the data in natural signs like winds, waves, cloud formations, the music of the canoe in the water, the flight of birds out to the distant shoals and back to shore. After an odyssey of 31 days, like Maui with his fishhook, he pulled his first island out of the sea by the brushy tops of a stand of coconut palms. Hawaiki, I might mention, is the name of the legendary Hawaiian homeland, whereabouts uncertain except in realms of imagination.
In Low's narrative, great archetypes are born anew. From the solitary coral atoll Satawal in the remote Caroline Islands comes the master Mau Piailug, a seafaring dinosaur in possession of ancestral knowledge for which his people see no further use. His disciple, from contemporary Honolulu, is Nainoa Thompson, a young Hawaiian achingly out of touch with his cultural birthright. From Maui, we meet a third star in this constellation: the young waterman Eddie Aikau, lost at sea, whose gently heroic spirit will hover over the enterprise like a guardian angel. And then there's the Hokule'a, a modern replica of a double-hulled Polynesian canoe, the vessel of everyone's struggles, tragedy, aspirations, and dreams. Over the decades the Hokule'a has emerged as perhaps the most potent symbol of the burgeoning Hawaiian renaissance. (For a log of her travels past, present, and to come, visit the Polynesian Voyaging Society website.)
The scientific objective in building the Hokule'a was to prove that the purposeful seafaring attributed to the Polynesians was no crackpot fantasy. From the first, her history has been amply documented in print and on film, by Low himself, among others. Hawaiki Rising gives the fullest account to date, but that alone may not be the book's principal distinction. As a three-time crew member, Low writes with an insider's knowledge of the personalities and the challenges at sea, quoting liberally from private logs and journals. Best of all, he goes beyond the physical and logistical challenges of the voyage to illuminate its imaginative, metaphorical, and ultimately spiritual significance. Low's subtitle—Hokule'a, Nainoa Thompson, and the Hawaiian Renaissance—gives a first hint of his grander theme. That it should fall to Thompson to strike the opening chord, as he does in a foreword, seems only pono, as Hawaiians say, meaning right and proper.
"Growing up in Hawai'i in the nineteen sixties," Thompson begins his foreword, "I found my Hawaiian culture ebbing away. I had never seen an authentic hula, attended a traditional ceremony and seldom heard our language spoken. It was a confusing time for me and I felt lost between worlds that seemed in conflict. All that changed one night when Herb Kane [founder of the Polynesian Voyaging Society] introduced me to the stars and explained how my ancestors had used them to find their way across a vast ocean to settle all of Polynesia. At that moment, my vision of my ancestry became timeless and alive in those same stars." The heart of Low's book is Thompson's coming of age as a navigator, a thinker, and a role model, not only to antiquarian seafarers. Imbibing a legacy of priceless knowledge at the knee of his master is part of the picture but not all. Beyond what Mau Piailug could teach him, Thompson sought and found ways to teach himself, to expand the database, to reconcile ancestral knowledge with the science he learned in school.

Like any heroic venture gathering momentum, the building of the Hokule'a ("Star of Joy") drew mavericks like a magnet, pioneers and romantics, running away or running toward goals for which even they may have no name. Low paints a lively gallery of these characters. Pure or mixed, the blood of the ancient Hawaiians flowed through the veins of many of the earliest recruits, as it does through Low's. Others were haole through and through, which for those who see only the color of their skin is to say white-bread white folk. Suffice it to say that early on the populations did not mesh.
"Before we leave, throw away all the things that are worrying you," Mau Piailug urged his dozen-odd fellow sailors as they set sail on the Hokule'a's maiden voyage to Tahiti. "Leave all your problems on land." But soon deep-seated animosities and mistrust took over. Whose canoe was the Hokule'a, anyway? "No one could foresee how pride in the canoe, reviving pride, would turn into possessiveness," one observer said later. "'This is my canoe because I am Hawaiian and this is not your canoe because you are haole even though you, Mr. Haole Man, are largely responsible for building and creating this. Thank you—but give it to me.'"
In the decades since the launch of the Hokule'a, Hawaiian studies have burgeoned even as the Hawaiian-sovereignty movement has gained ground. As native peoples throughout the colonized world have seen, reconnecting with an extinguished or disappearing heritage is never easy. All too often, perhaps inevitably, new schisms arise.
Yet other scenarios are possible. Since the second voyage to Tahiti, with Thompson navigating under Mau Piailug's unobtrusive eye, harmonious interracial crews have been the norm, with women aboard as well as men. Today, the canoe is embarked on a five-year circumnavigation of the globe. As Thompson describes it, the mission transcends personal or chauvinistic glory. "We sail," I have heard him say, though the words do not appear in this book, "to honor all cultures."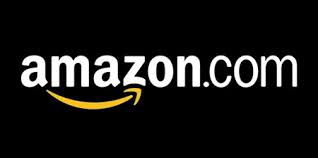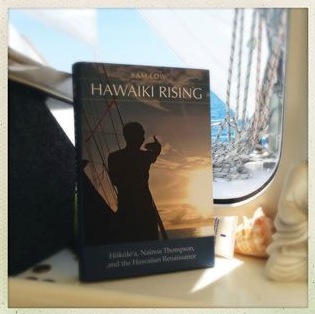 Where do you read Hawaiki Rising?
Natalie Davey reads Hawaiki Rising while sailing aboard Pelican 1 on a mission to help the people of Cape York. Here is what she says of the voyage: "Pelican1 is sailing North for our annual project with the Hope Vale community in Cape York. The project will be an opportunity to get out into Guugu Yimithirr Sea Country. Looking forward to the inevitable knowledge sharing at sea. I have a new book full of Polynesian sea knowledge and experience to share from one of the IPMEN members Sam Low. Looking forward to sharing HAWAIKI RISING with the Guugu Yimithirr people."
Honolulu Star-Advertiser
Sunday, June 16, 2013
'Hawaiki' chronicles hopes tied to Hokule'a
By Gary Kubota
Sam Low's "Hawaiki Rising: Hokule'a, Nainoa Thompson, and the Hawaiian Renaissance," captures in convincing style the heartbreak, sacrifice and hopes of the crews aboard the historic double-hulled sailing canoe Hokule'a.
The book takes readers well beyond the first Hawaii-Tahiti voyage in 1976 that supported the assertion that Pacific islanders could navigate the open ocean without instruments, relying on signs in nature and the heavens, well before European expeditions to the Americas.
Low, who sailed on three subsequent Hokule'a voyages in the Pacific, writes about the evolution and rise of the vessel as a symbol of the Pacific renaissance. The canoe's founders and crew members provide new insight into the intense study and training of navigator Nainoa Thompson, as do the book's black-and-white photos, star charts, maps and detailed illustrations.
"Hawaiki Rising" also brings into focus the selfless life of the late master navigator Mau Piailug of Satawal in Micronesia, who shared his knowledge with Thompson in hopes of reviving his own people's wayfaring traditions.
The charm of this story is the realization that a community of supporters of varied ethnicities helped Thompson to achieve the goal of becoming the first Native Hawaiian noninstrument navigator in modern history.
It is a tribute to people with different goals and backgrounds who helped form the voyaging movement. They include Hokule'a co-founder Ben Finney, who wanted to show that Native Hawaiians could have been capable of noninstrument navigation between Hawaii and Tahiti, and late co-founder and artist Herb Kane, who hoped for a rebirth in Hawaiian culture.
It is a tribute to learned people such as the late Bishop Museum Planetarium lecturer Will Kyselka, who gave Thompson access to the facilities at night to study and commit to memory the paths of more than 100 stars.
Most of all, it is a tribute to Piailug, who died in 2010, and the world of native wayfinders in the Pacific.
How can you tell if a flying sea bird is headed toward land?
If you see a moon with a halo, what kind of weather should you expect?
Low's book gives readers glimpses of the knowledge of the natural world required by wayfinders like Piailug who knew the answers to these questions.
Readers also are left with a new appreciation for Thompson's arduous path as he sought to renew native voyaging.
Author Gary T. Kubota was a crew member aboard the Hokule'a during its 2007 sailing through Micronesia, receiving an "Editorial Excellence" award from the Hawaii Publishers Association for his coverage of the voyage.
"Hawaiki Rising: Hokule'a, Nainoa Thompson, and the Hawaiian Renaissance,"
by Sam Low (Island Heritage, $24.95)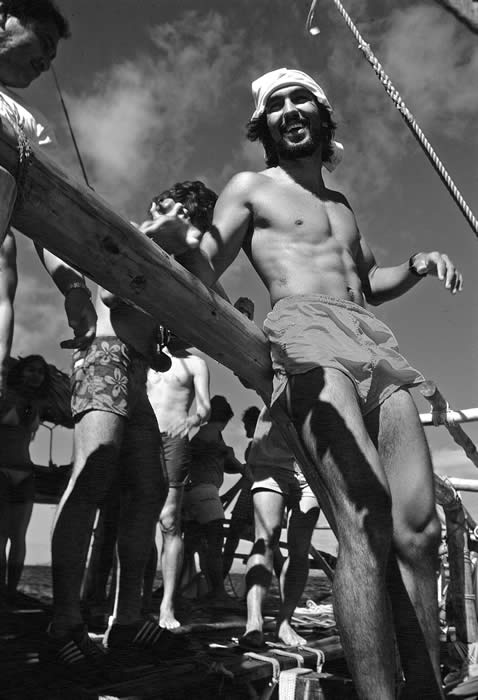 Nainoa Thompson as a young man
in 1980
Nainoa Thompson - Hokule'a's navigator
"The vision of Hokule'a was conceived in 1973, so the publishing of this book marks the 40th anniversary of her creation. Sam Low, the author, has sailed with us on three voyages, written numerous articles and now, after ten years of work, has finished Hawaiki Rising. This book is an important part of our 'olelo, our history, and it contains the mana of all those who helped create and sail Hokule'a."
From A Reader
Reading this book, I felt like I was transported back in time and space, on a sailing canoe traversing the vast Pacific, sailing towards Hawaiki. What a comprehensive retelling of the Hokule'a story and the extraordinary men and women who risked their lives to sail her on the journey of rediscovery. Beautifully written, Sam Low's account is immensely readable, and will take you inside the culture and politics of the times, as well as the psyches of those who sailed on Hokule'a.
Sam Low's writing has such hypnotic appeal that this book is hard to put down. I would fall asleep reading a chapter, then wake up in the middle of the night to pick up where I left off, until I would fall asleep again, dreaming of voyaging and finding new islands. As Eddie Aikau said, "I want to sea Tahiti rise from the sea." A week after reading the last chapter, it still resonates with me.
Amazon.com review by honoliigirl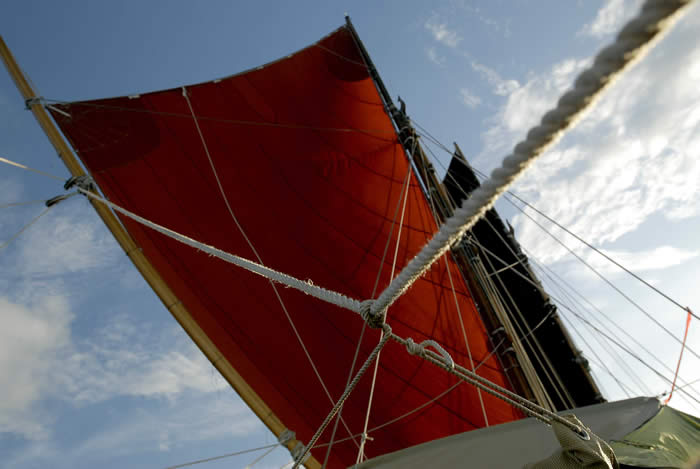 Hokule'a's sails
From a Reader
First, let me say that the book is like a fair wind, it pulls one right along. I have read several books related to Hawaii since I returned to the Islands three years ago after 30 years on the mainland, and I think yours is an important book. Hokulea and the Polynesian Voyaging Society have certainly made an impact on Hawaii. The voyaging canoe has become iconic here. The Waikiki Yacht Club has perpetual trophies in the form of voyaging canoes, and today at Treetops Restaurant in Manoa Valley I noticed that their buffet line was decorated with two model voyaging canoes.

Andrea and I encountered your book again two weeks ago at Costco and picked up another copy to send to our daughter on the mainland.

I found your book compelling, readable, and a good balance of technical detail and personal stories to illustrate the drama the history holds. I also appreciate the abundance of photographs and illustrations you provide. I think I know more about navigation now.

Rick Wagner
Honolulu
Hawaii Book Blog
Hawaiki Rising: Hokule'a, Nainoa Thompson, and the Hawaiian Renaissance tells the story of Hokule'a's creation at a time when Hawaiian culture was almost lost. The book tells Nainoa Thompson's story for the first time. The book is populated by the 'ohana wa'a, the family of the canoe – those men and women who shared the vision of raising distant islands across the sea. For a more in depth synopsis, visit Sam Low's Hawaiki Rising website.
It's a really straightforward and easy book to read with great recollections, personal insights into the Hokule'a and Hawaiian Renaissance, and an account of the spiritual and cultural growth of such respected men as Nainoa Thompson. The text is supplemented with beautiful full-page black & white photographs, content-specific maps, and fascinating star charts and graphs. I especially love the star charts and diagrams explaining how the navigators use the natural tools around them in the sky and sea to masterfully find their way–with pinpoint accuracy–across thousands of miles of ocean.
From a reader
"Got my copy of Hawaiki Rising! Was supposed to be airplane reading but I couldn't wait! I'm only on chapter 2 but I already want a class set for next year!
Stayed up late reading, fed kids cleaned up and started reading again. It's like I'm transported back in time. I can't explain it. I can't put it down. I'm hearing all these voices coming to life, all their experiences. People I know, I see them in a whole new context! Makes me want to learn more...
I finished it that same day! It was great. Easy to read, gave voice and details to a story I knew a little bit about."
Kuuleianuhea Awo-Chun
Kumu, wa'a project alaka'i with Kanehunamoku.
Halau Ku Mana, an award winning Hawaiian focused public charter school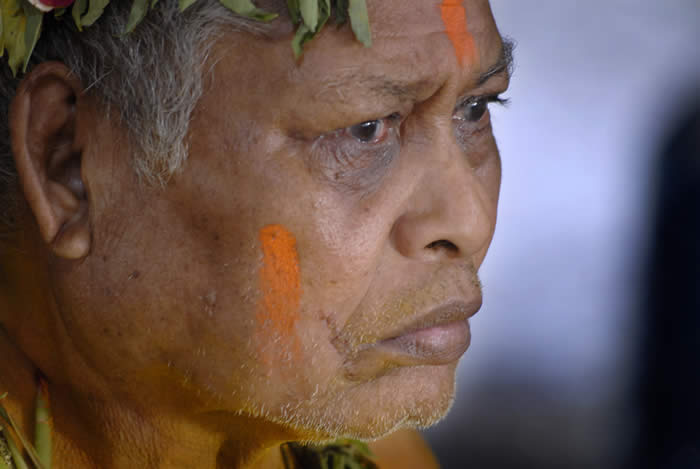 Master Navigator Mau Piailug in 2007
at the pwo ceremony
Honolulu Weekly
Charting Our Ancestral Past
Hokule'a inspires
BY HA'ALILIO SOLOMON | MAY 22, 2013
Hawaiki Rising by Sam Low tells the epic saga of voyaging on the Hokulea, which, as every Island schoolchild should know, is a traditionally constructed Hawaiian sailing vessel that is steered by observing natural elements, without instruments or maps.
Low, a part-Hawaiian anthropologist who participated in three voyages, follows the Hokulea through conception, construction, and navigation.
The book's opening chapter is a pithy swath of Hawaii's past 250 years. Low describes how foreigners introduced land privatization, religious indoctrination and disease. In just a few pages, Boldly, Low even quotes Mark Twain: "No doubt in fifty years a kanaka (native Hawaiian) will be a curiosity in his own land, and as an investment will be superior to a circus." However ominous, this pronouncement establishes the book thematically: Even with the odds so stacked against them, Hawaiians have persevered with a tenacity that is documented in these pages.

Referencing the pride and cultural resurgence of the 1970s Hawaiian Renaissance, "This book is the story of an astonishing revival of indigenous culture by voyagers who sailed deep into their ancestral past," Low writes. His account, which revisits the wrenching loss of Eddie Aikau, celebrates the seafaring heritage of the Polynesian people, in hopes to "forever inspire the people of the Pacific and beyond to raise islands from the sea.
Honolulu Advertiser
Standing room only is likely in the Mission Memorial Auditorium, 2 p.m. Saturday. Author Sam Low is traveling from his home on Martha's Vineyard in Massachusetts to present his book, "Hawaiki Rising, The True Story of Hokule'a," followed by his film, "The Navigators, Pathfinders of the Pacific." His cousin Nainoa Thompson will introduce him.
LOW TALKS of growing up on an island on the Atlantic Ocean. He was prompted to find his roots by stories about his grandfather, a Big Island cowboy named Rawhide Ben Low. A National Geographic story about voyagers sailing not from South America, but from Pacific islands brought him to search out his Hawaiian roots.
What followed was connecting and becoming friends with his Hawaiian family and Nainoa. 'We sailed together with the navigator Mau Piailug and I began to record the stories of the voyage," Low said in an interview. "I was granted the honor of writing the only 'authorized' (well - maybe - but I don't like that word - Sam) story of the voyages of Hokule'a, including the full story of the loss of waterman Eddie Aikau on the tragic 1978 voyage."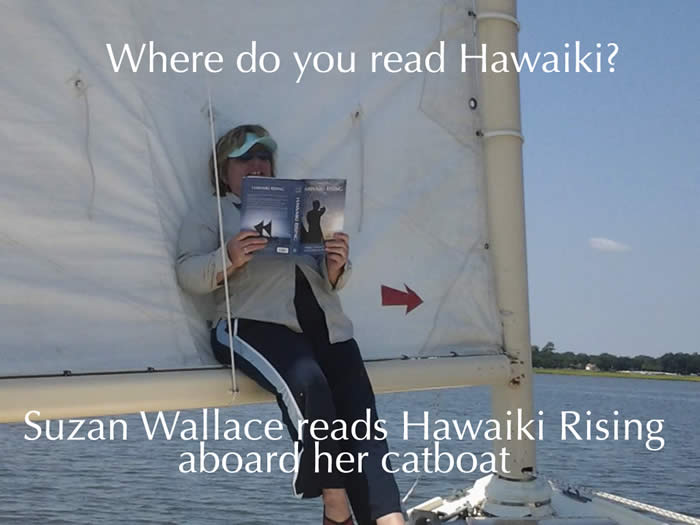 Chris Vandercook - The Conversation - Hawaii Public Radio - May 14th, 2013
Following the light, watching the motion of the waves and the flight of seabirds, ancient Polynesian navigator found their way to Hawaii and traveled the ocean at will using ways of navigating that later were all but forgotten. The revival of that ancient craft became one of the great stories of modern Hawaii when a generation rediscovered their heritage through the voyages of Hokule'a. That story has now been given comprehensive treatment by a man who witnessed it at first hand. Sam Low is the author of Hawaiki Rising and he is with us this morning.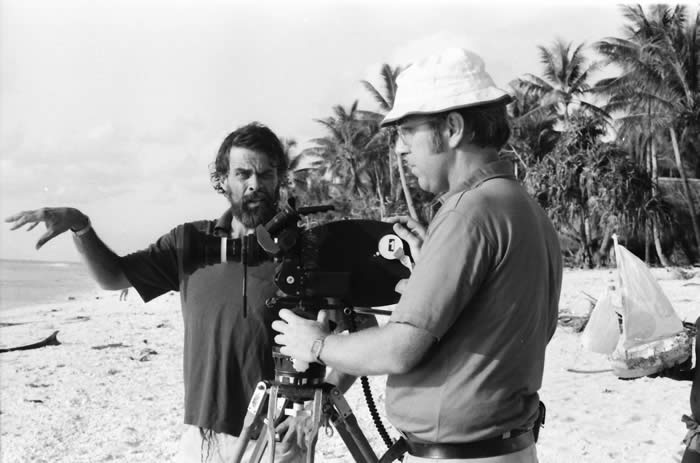 Sam Low and Boyd Estus
filming on satawal
1981
Hawaii Tribune Herald
Author Sam Low to present new book about Hokule'a
Sam Low will present his new book — "Hawaiki Rising — Nainoa Thompson, Hokule'a and the Hawaiian Renaissance" — at two signings in Hilo. The free programs will be from 10 a.m. to noon on Tuesday, June 4, at Walmart and from 2 to 4 p.m. Saturday, June 8, at Basically Books.
Low also will present a slide talk at the Hawaii Volcanoes National Park Kilauea Visitor Center at an After Dark in the Park event at 7 p.m. on Tuesday, June 4, and another with navigator Thompson at 7 p.m. on Friday, June 7, at 'Imiloa Astronomy Center.

Low's book tells the story of Hokule'a in the words of the men and women who created and traveled aboard the 20th-century replica of an ancient Hawaiian sailing canoe, guided not by modern navigational techniques and equipment, but by ancient knowledge of the stars.
From a Reader
Wanted to let you know how much I enjoyed Hawaiki Rising. Well done! It is evident from the various interviews and anecdotes how long you have been working on it. I especially appreciate the level of detail you provided regarding the art of way-finding and the dedication it took on Nainoa's part to ever be able to put it all together the way that he did (above and beyond the foundational support that Mau provided).
Gordie Morris
Captain Free Spirit

From a Reader
Arriving in Hawaii more than 20 years ago, knowing nothing, I have learned much about the incredible culture of Hawaii. I have become a person deeply in love with this land. Hawaiki Rising, by Sam Low, is a masterful presentation of the voyages of Hokule'a. It is written in such descriptive terms that I felt as though I was on the canoe. I could not put the book down.
Richard Hardy
Honolulu
From a reader
"When I was sent Hawaiki Rising to review I couldn't put it down! Great job on everything! I didn't expect to be so totally captivated by it!"
Karin Ortiz
Book store manager - West Hawai'i
Hawaii Pacific Parks Association
New Book Charts Course to Hawaiian History Via Canoe
Olivia Hull
The Vineyard Gazette
Friday, July 12
Sam Low craves at least two things in life — the strong embrace of an ocean and the presence of a true ohana. He's found both in two somewhat dissimilar places — Martha's Vineyard and Hawaii.
Ohana is a Hawaiian word that means extended family. Mr. Low's father grew up in Hawaii but moved to New England at the age of 17. On the East Coast, he sought a lifestyle similar to his Hawaiian upbringing and found it on Martha's Vineyard, where "everybody let their hair down and everybody was fishing and clamming," Mr. Low explained.
Growing up in Connecticut, Sam was exposed to Hawaiian cuisine, dance and hula — a form of prayer through dance. But Sam did not visit Hawaii until 1964 as a naval officer. His father died before he had a chance to reconnect with Hawaii, so Sam made it a lifelong mission to visit his father's homeland. "I got a feeling I was going back for him," he said.
Sam Low, now 70, served in the U.S. Navy in the Pacific from 1964 to 1966. In 1975 he earned a doctorate in anthropology at Harvard. As part of his studies, Mr. Low became fascinated by the subject of how the Polynesian people settled the many islands of the Pacific.
In his youth the popular book and documentary film chronicling Thor Heyerdahl's famous balsa raft expedition from Peru to French Polynesia received a lot of attention, and many accepted it as truth. Mr. Heyerdahl's theory, proven to his satisfaction by the 101-day voyage aboard the Kon-Tiki, was that the Polynesians were descendants of ancient South Americans who built rafts and voyaged across the Pacific from east to west to populate the islands.
In the early 1980s, Mr. Low produced a movie entitled The Navigators — Pathfinders of the Pacific, which countered the Kon-Tiki theory, saying that the descendants had in fact traveled from west to east setting out from Micronesia. To do this the boats would have had to travel against the winds and currents, something a mere raft could not do.
Mr. Low's first book, Hawaiki Rising, which was published this past May, continues this conversation putting at the center of the story a double-hulled canoe named Hokule'a, a replica of the boats Mr. Low and others feel were key to the Polynesian diaspora. The H o k u le'a was a much more sophisticated sailing vessel than Mr. Heyerdahl's raft and able to chart its own course to and among the islands of the Pacific. Mr. Low made many such trips as a crew member on the Hokule'a.
"The story is about the renaissance of Hawaiian culture, and the rediscovery of how our ancestors were able to navigate," Mr. Low said. "They had to sail against the prevailing winds and currents, so they must have had very advanced equipment."

On the voyages he attended in 1995, 1999, 2000 and 2007, he served as the official documentarian of the Hokule'a journey, composing 300-word posts each day.
Mr. Low's cousin, Nainoa Thompson, became the book's focal point. Having grown up in Hawaii somewhat disconnected from his tribal roots, Mr. Thompson became interested in learning the ancient craft of navigation using stars. For years, Hawaiians were treated as second-class citizens in Hawaii, and the language, culture and history of the native people were not taught in schools. Mr. Thompson became a protege of Mau Piailug, a skilled navigator.
Mr. Thompson's story is made central "because it's his coming of age in Hawaii at a time when Hawaiian culture was almost disregarded and lost," Mr. Low said. Nowadays, Mr. Thompson is known as a respected 60-year old navigator, but few are aware of the risks he took as a youth to take on the legacy of ancient Pacific navigation, revitalize it and prove its efficacy to the world, Mr. Low said. In 2017, Mr. Thompson plans to stop in Vineyard Haven while sailing the Hokule'a around the world.
Through the process of discovering their former preeminence in oceanic navigation, some Hawaiians became possessive of the canoe and wished to exclude others from the process of rediscovery. Previous books and films made about the subject of the Hokule'a emphasized the friction between the ethnic Hawaiians and the haole — white members of the crew. Mr. Low preferred to focus on the anthropological and archeological side of story, as well as the biographies of each of the crew members. Mr. Low sought to employ as much of the Hawaiian language in his book as possible without confusing the reader. He also provides a glossary at the back.
"When Hawaiians discovered this story about themselves, that in fact they once were the world's greatest sailors and navigators, and they discovered the oppression of their culture . . . they got very angry," he explained. "I appreciated that side of the story but I realized that something was missing."
As Mr. Low sees it, the canoe's mission did not end with discord, rather it culminated in a renewal of pride and dignity for all of the Hawaiians involved, no matter their ethnic makeup. That's the takeaway message of his own narrative.
"Hawaii today is one of the most rainbow of societies that there is. There are so many different races, so many different cultures," he said. "The ethic of this canoe is that you are Hawaiian if you have that spirit in you, whatever race you are . . . come voyage with us, become part of this." In fact, the story appeals to anyone who has experienced a process of discovering a lost cultural identity, he said. When he tells people he sailed on a Polynesian replica boat, people assume that it's the Kon-Tiki he's referring to. But he's quick to correct them. Though in his book he doesn't focus on what he calls "the battle of the theoretical," his book can serve as an antidote to that misinformation. He and others believe instead that it was the ingenuity of their navigation and their engineering that enabled the ancient Polynesians to populate the Pacific, not the unsophisticated audacity Mr. Heyerdahl sought to recreate.
In his book, Mr. Low reconstructs the early maiden voyages, beginning in the 1970s, of the canoe to Tahiti and other islands of the region, piecing together snippets from more than a thousand hours of interviews with more than 100 affiliates. Mr. Low did not join the crew until more than a decade later, so he absents his own persona from the writing. "I want it to be a chorus of voices," each speaking directly to the reader, he said.
Beholding the canoe was for Hawaiians a powerful moment. "The canoe carried a song from a time before remembering, a time so far in the past that it had been forgotten, or worse, a time that had been erased from memory so as to not reawaken an ancient hurt . . . but H o k u le'a overwhelmed such resistance . . . ," Mr. Low writes in his book. Though his research took place in the Pacific, Mr. Low wrote a good portion of it and designed it on the Vineyard with the help of Nan Bacon and Tara Kenny. He published it in May, using Island Heritage Publications, a Hawaii-based printer. All told, he dedicated 10 years of his life to the book.
For the past three years, Mr. Low has lived on the Vineyard year round. "This Island is an ohana," he said. If you just stay around, stand up and present yourself as part of the community, you will be accepted here, he said. This culture of this Island, like Hawaii, is informal and community-oriented, he added, and both communities were integral to the publication of the book. The final copies of the first edition are available for purchase at Island bookstores. Another printing is under way.
"People come here to relax and to be themselves," Mr. Low said. "When the Island calms down, most Islanders pretty much love to get together with each other."
- See more at: http://mvgazette.com/news/2013/07/10/new-book-charts-course-hawaiian-history-canoe#sthash.qf9ix6CM.dpuf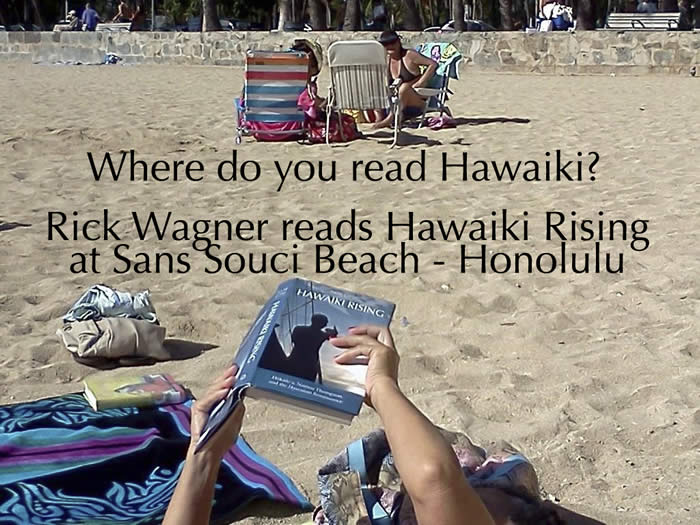 NEWS FLASH - July 1, 2013
Hawaiki Rising was released on May 18th at the Hawaii Book and Music festival and since then has almost sold out the original printing of 3,000 copies. A second printing is underway.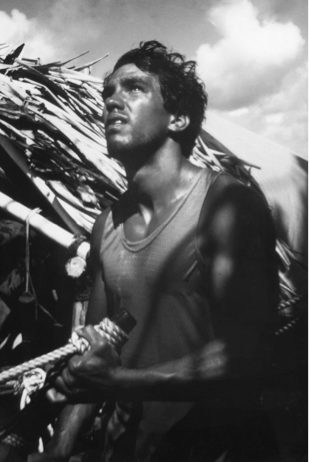 Nainoa Thompson 1976
Photo; Dr. Ben Young
Foreword
By Nainoa Thompson
Growing up in Hawaii in the nineteen sixties, I found my Hawaiian culture ebbing away. I had never seen an authentic hula, attended a traditional ceremony and seldom heard our language spoken. It was a confusing time for me and I felt lost between worlds that seemed in conflict. All that changed one night when Herb Kane introduced me to the stars and explained how my ancestors had used them to find their way across a vast ocean to settle all of Polynesia. At that moment, my vision of my ancestry became timeless and alive in those same stars.
Our canoe, Hokule'a, and our dreams have now carried us over one hundred and fifty thousand miles of ocean, following in the wake of our ancestors who discovered and settled Polynesia. It has been a process of finding ourselves not only as Hawaiians, as ku 'aina, native to these islands, but also as native to planet Earth. On all of our voyages, we have been guided by the wisdom of our elders, our kupuna. Among them is my father, Myron "Pinky" Thompson, who understood that voyaging is a process in which we are guided by values that are universal. "Before our ancestors set out to find a new island," my father told me, "they had to have a vision of that island over the horizon. They made a plan for achieving that vision. They prepared themselves physically and mentally and were willing to experiment, to try new things. They took risks. And on the voyage they bound each other with aloha so they could together overcome those risks and achieve their vision. You find these same values throughout the world," he said, "seeking, planning, experimenting, taking risks and caring for each other. The same principles that we used in the past, are the ones that we use today and that we will use into the future. No matter what race we are or what culture we carry, these are values that work for us all."
Hokule'a embodies the mana, the spiritual power and wisdom, of all who have sailed aboard her or laid their caring hands on her. Our great teacher, Mau Piailug, taught is to travel always with seram, with the light. He taught us that voyaging aboard Hokule'a was a kuleana, both a privilege and a responsibility: that a voyager sets out to discover new worlds and new values and to bring them home to nourish the spirit of his people. As we continue to explore new sea-paths, we celebrate the founders of our voyaging society, Herb Kane, Ben Finney and Tommy Holmes, whose tenacious pursuit of their vision of an ancient canoe traveling ancestral sea paths gave birth to Hokule'a. We follow the guiding stars that Will Kyselka helped us discover by his constant encouragement and support. As we raise new islands and new lands from the sea, we realize the dream of Eddie Aikau, who gave his life for his vision of seeing Tahitian mountains rising from the distant horizon. And we are inspired by the wisdom given to us by astronaut Lacy Veach who, from his vantage point in space, taught us to see our world holistically so that we might know that we are all one and that we might malama, care for, our planet so that Earth may sustain all human life. As we sail on into the future all these people and many, many more - our kupuna - sail with us.
The vision of Hokule'a was conceived in 1973, so the publishing of this book marks the 40th anniversary of her conception. Sam Low, the author, has sailed with us. He has been a documenter on three voyages, written numerous articles and now, after ten years of work, has finished Hawai'iki Rising. This book is an important part of our olelo, our history, and it contains the mana of all those who helped create and sail Hokule'a.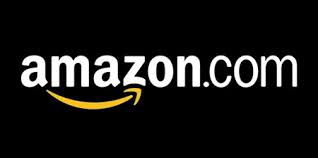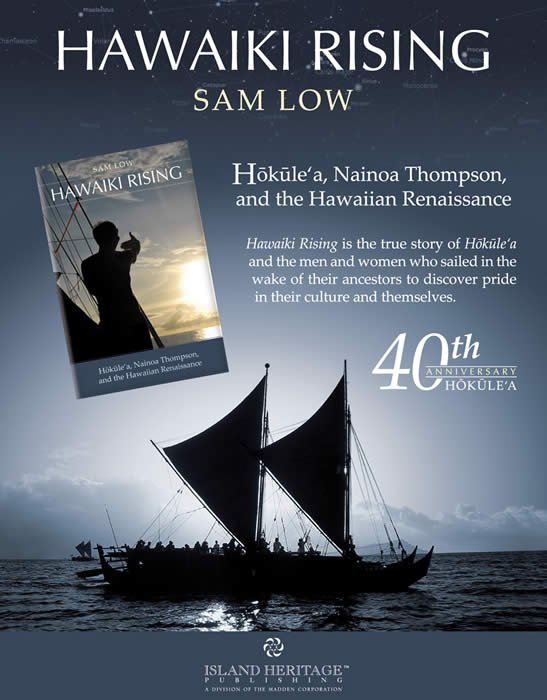 Excerpts from the book
Chapter Six - I feel my ancestors all around me
Chapter Seven - The Spaceship of the Ancestors.
Chapter Seven - The Spaceship of the Ancestors
Chapter Twenty - Kealaikahiki - The Way to Tahiti
Chapter Twenty-Three - Capsize
Chapter Thirty-Four - Hamakua Storm
Presentations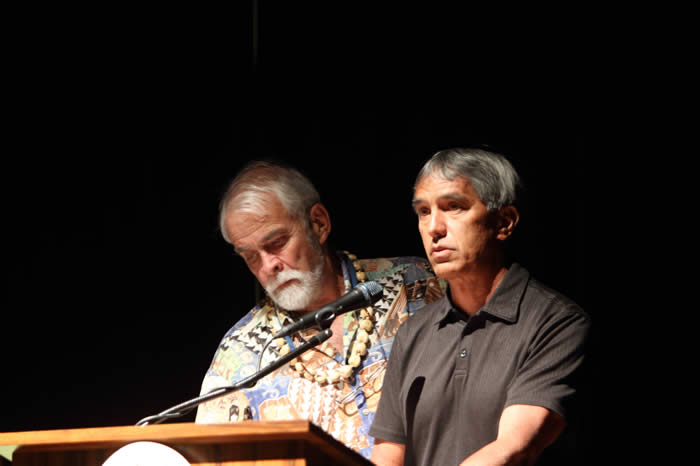 Sam and Nainoa presenting at the Hawaii Book and Music Festival
May 2013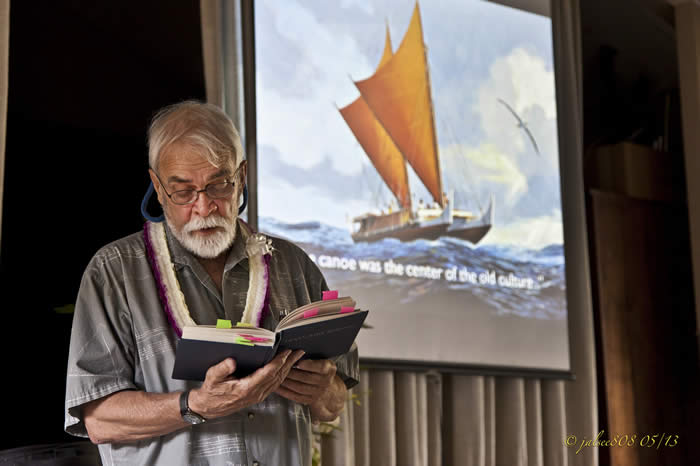 Daughters of Hawaii
photo by Janet L. Clark
In May and June I had the opportunity and pleasure to present the book to
a number of organizations in Hawaii.
The Bishop Museum
Daughters of Hawaii
Hawaii Volcanoes National Park
'Imiloa Astronomy Center
Hawaii Book and Music Festival.
Here are some comments and photographs from those presentations
Hawaii Volcanoes National Park
You were fabulous! We continue to have positive comments about your program. Hawaii Volcanoes National Park was proud to present your book and carry it in our bookstore.
Mahalo for all you do,
Dean Gallagher, Park Ranger
Hawai`i Volcanoes National Park
The Bishop Museum
Thank you again for speaking last week and the evening lecture was one of the most highly attended all year. Please stop by the next time you are in Honolulu. Mahalo!

James Caycedo
Membership Manager
Mystic Seaport Museum
Training with Small Boats Conference
Thank you so much for your participation at the TWSB Conference.
Your materials, book, and personal contributions were very much valued by the participants. You could tell from the questions asked during the Panel Session and after the screening of your film. Also, there was considerable "buzz" from participants discussing the subject among themselves.
As the participants ponder the rich lessons from the Conference, there is no doubt in my mind that they will be influenced by the story of the Polynesian navigators, the resurgence of interest in their culture, and the "Hawaiian Renaissance" characterized in your book.
David A. Helgerson
David Helgerson & Associates, LLC
The Apprenticeshop, Rockland, Maine
November 8, 2013:

Sam Low's presentation was captivating and educational! Our boatbuilding and sailing community truly enjoyed the vision, challenges, and successes portrayed by Sam's film and his enlightening discussion afterwards. Our organization has a history of building and sailing important traditional vessels in the Atlantic. "The Navigators" story left our audience with an inspiring and deeper appreciation of the Hokule'a's accomplishments, the people who brought her to life, and the Polynesian seafaring cultures now re-flourishing through-out the Pacific.
KC Hayniger
Waterfront Program Director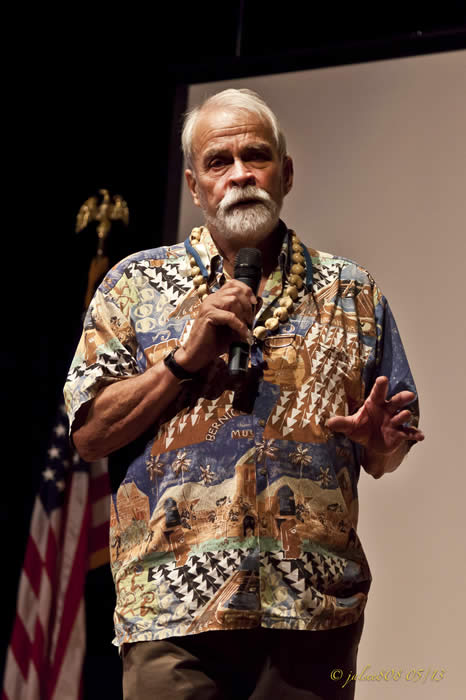 Hawaii Book and Music Festival
photo by Janet L. Clark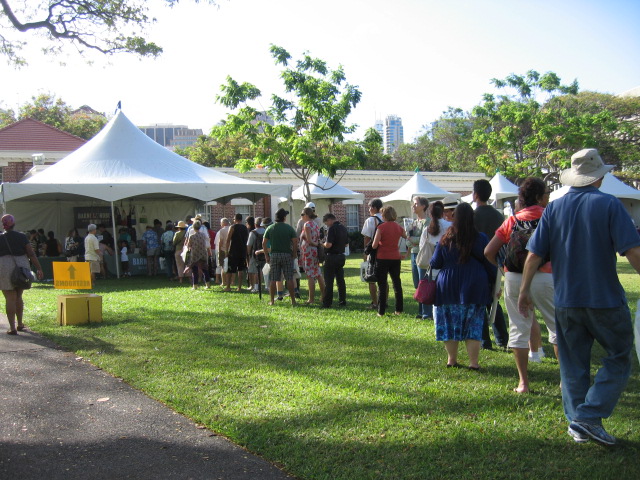 The line - waiting for books to be signed at
Hawaii Book and Music Festival
click link below for video
The Author
Sam Low has sailed aboard Hokule'a on three voyages – from Mangareva to Rapa Nui in 1999, Tahiti to Hawaii in 2000 and from Chuuk in the Federated States of Micronesia to Satawal in 2007. He also accompanied the canoe aboard an escort vessel from Tahiti to the Marquesas and on to Hawaii in 1995. The story of Polynesian voyaging has fascinated him most of his life. In 1983, after traveling throughout Polynesia, Sam produced his award winning film, The Navigators – Pathfinders of the Pacific, shown nationally on PBS and internationally on television venues throughout the world. Sam is the author of many articles on Hokule'a and her meaning to Polynesians. He served in the U.S. Navy in the Pacific from 1964 to 1966 and earned a Ph.D. degree from Harvard (in anthropology) in 1975. He is one-quarter Hawaiian. Nainoa Thompson is his cousin, a relationship which has provided unparalleled access to the main protagonist of this story. (www.samlow.com)
Want an autographed copy of the book?
click here - to send a note to Sam