Howard Coe – A Man's Gold Standard
Vineyard Gazette – Friday, September 24, 2004
By Sam Low
Howard Coe has an open face, striking blue eyes under bushy eyebrows and a shock of lush white hair. He has the deep voice of a professional radio announcer. His smile is broad and enduring. Howard is trim and athletic and always moving. On Saturday, more than a hundred friends gathered to celebrate his 90 th birthday.
Howard lives in a typical Vineyard shack at the base of Able's Hill with the sound of surf in his ears. He first came to the Vineyard in 1958 and has been away for only one summer since.
"The Vineyard is special to him," says his daughter Kathy. "The Vineyard gives him a tremendous sense of freedom. It gives him peace. He is drawn to the physical beauty of it and it provides him with a sense of self sufficiency that's important to him."
Howard's house contains four rooms. It is uninsulated and unpretentious – a simple machine for living. The walls are adorned with paintings from island artists – Lanny McDowell, Bev Sky, Ann Bromberg, Jim Mitchell, Melissa Paterson and W.D. Prizer. Each has a personal connection. The Prizer, for example, was a gift. It shows Howard's boat – Kingfisher – going out the channel at Harthaven.
A white model boat is over Howard's front door. He first saw the boat when he was four. It was the property of a local butcher and whenever Howard visited the butcher got it out for him.
"He was always fascinated by boats," says Kathy, "and so one day the butcher gave it to him."
Later the boat appeared under the family Christmas tree – a stand-in for a sailing dingy that Howard had purchased for Kathy. Everything in Howard's house is like that – talismans of his life.
This is what Howard's friends and family say about him:
"He is up early and barefoot and tanned to the bottom of his dermis."
"He is sincerely interested in what anyone is doing or is interested in – being interested is part of being interesting."
"He is not hampered by preconceived notions of people or new situations. He is receptive to life."
"He is satisfied with what is right in front of him. He lives a day at a time and does not worry about the future. He is content within himself."
"He is old school – very courteous – polite. He writes thank you letters."
"I have never heard him say I have nothing to do. Never."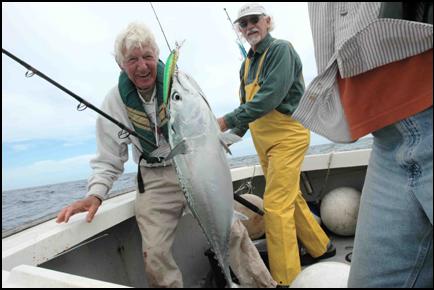 Howard (left) admires a false albacore

"Howard is always looking for adventure," says his daughter Kathy. "He called me at 5 o'clock last Wednesday morning to tell me he was going tuna fishing 45 miles south of the vineyard. He was 89 and 360 days old at the time."
As it happened, I accompanied Howard on that trip along with Lanny McDowell and Richard Cohen. We set out aboard Skillie out of Menemsha, Matt Mayhew captain. We are all deep water sailors and we like to help out on a boat – but Howard was always there before us – stowing gear, handling lines, whatever.
"We've sailed a lot together," says his long time friend and Able's Hill neighbor Don Davis. "Howard is a great guy to have on a boat if you have a problem, whether it's getting a line untangled from the prop or trying to figure out what's wrong with the engine."
On our fishing trip, we didn't find tuna but we boated a lot of False Albacore. The picture above shows Howard catching one of them.
"My favorite adventure with dad occurred during the summer they filmed Jaws on the island," Kathy remembers, "he decided that we should be able to catch a shark. I have a 12 foot sailing dingy so Dad and I and my college roommate carried the dingy over South Beach to go shark fishing. We rowed out. Our dog swam out to the boat and we hauled him in. A guy in an open boat said 'you ought to be careful there are sharks all around,' and he held up striper. A shark had taken a huge bite out of it. A friend of mine came down from Squibnocket on a surfboard and we took him into the boat. Now there were four of us and a dog. Dad continued to fish. Sure enough, we hooked into a shark. The dog tried to leap into water. The shark took the line under the anchor line of another boat. We were being pulled toward the boat. The shark surfaced - he was as long as the dingy. Eventually he severed the line. I insisted, quite hysterically, that he row us back in. Then he went out again."
Howard was born in East Haven , Connecticut , near the water. "As a kid he was always fishing or clamming," says Kathy, "he was outdoorsy. He loved the ocean"
Howard graduated from the University of Connecticut , served in the Navy during WWII, and went on to earn a master's degree in forestry at Yale. Eventually he went to work at Stanley Works in New Britain , Connecticut and was put in charge of insurance and real estate acquisitions.
"During one summer," remembers Don Davis, the company's CEO, "we were driving in Ohio together to look at property. It was baking hot. 'Boy a shower would feel good,' I said. 'Well, let's get one,' Howard said. So he drives into a fire station. He's not shy. 'What do you want?,' asks the fireman. 'We are going to take shower,' says Howard. "Your are going to do what?' says the fireman. 'Well,' replied Howard, 'you've got one don't you? You are paid by the taxpayers. We're taxpayers.' 'Well go ahead,' says the fireman."
"Howard's got a lot of moxie," Don recalls, "that shower felt good."
Howard Coe is a Yankee and as such he is parsimonious. He finds much of his clothing at the thrift shop and, occasionally, at the dump. Howard has an old beat up car, but he eschews using it. He can often be found hitch hiking. He met many who attended his birthday party that way. He buys his newspaper in West Tisbury , not Chilmark, because it's a few pennies cheaper. Don likes to tell a story about Howard flying to Sweden for a wedding.
"He took the least expensive flight which meant he had to go through Iceland and spend the night there. The airline gave him money for a hotel, but he kept it and slept on a bench in the airport. We thought he would be tired, but when he arrived – just in time – he hit the ground running. He grabbed a plate of hors d'ouvres and began passing them around."
The story also reveals another part of Howard's character, Don says. "I don't know anyone even close to his age who is willing to forego creature comforts and be as happy as he is. He would have no trouble throwing a blanket on the floor and sleeping on it. That you expect from a teenager – not a man 90 years old."
About 20 years ago, Don Davis called Richard Cohen and asked him to captain his boat for one race in the Menemsha Pond Regatta, "but he said I had to use his crew," Richard remembers. And the crew was Howard Coe. Howard and Richard have raced together since then.
"Howard is the best crew I could ask for," says Richard, "he has a great personality on a boat, he does exactly what I tell him to do and he loves to look back and see all the other boats behind us."
Racing Richard's Herreshoff twelve and a half against 15 or so other boats, Richard and Howard have won the Arthur Railton "Cap'n Nat" trophy four years in a row.
"I kind of stole Howard from Don," Richard says, "and I don't think he has ever forgiven me."
Last year, at an Ag Hall dance, I found Howard spinning around the floor with the prettiest lady there.
"He is not shy about introducing himself to any woman of any age," says Don.
"If we all stood in a line and the winner of the Swedish bikini contest was asked to point to the sexiest man there," says Lanny McDowell, "we would all be walking away because Howard would win hands down."
Howard draws his zest for life from everything and everyone. On the Vineyard, he's indeed 'old school' – a person fulfilled by the beauty he finds all around. He enjoys the simple pleasures the island offers – clamming, fishing, sailing, the social world of people from all walks of life.
"Howard is a man's gold standard," says Lanny McDowell. "He's the role model of how we want to end up – the independence, the health, the shocking good looks, the interest and willingness to keep going and do lots of different things."
"My dad put in a new post of locust for the mailbox," says Kathy, "and he said 'I won't have to fix that for another twenty years.' He never thinks that his life is going to end. He's pretty sure he'll be around to replace that post."